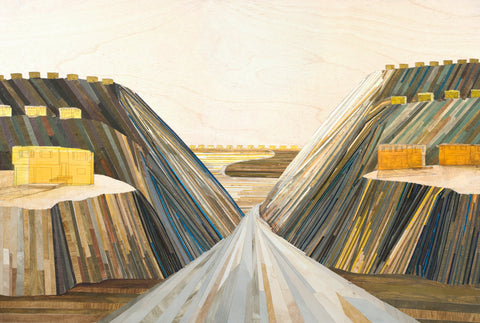 Click to Enlarge
Cheryl Molnar is a multi-media artist both haunted and spellbound by the places she inhabits. Her fascination with industry, architecture, new versus old, and the exponential sprawl of buildings imposing themselves on the natural landscape make up the foundation of her work. Much like the over-development of urban (and suburban) spaces, she uses the layering technique of collage on birch panels to 'build' each painting. Hers is a world of shifting landscapes, intense migration and inescapable nostalgia. She has shown extensively in both solo and group exhibitions at the Brooklyn Arts Council and McCaig-Welles Gallery in New York, and White Walls in San Francisco, among many others. She is a rising new talent whose meticulous technique and recent exposure in prominent gallery shows is taking her career to a new level. This is an exclusive opportunity to collect work by an artist on the cusp. Cheryl Molnar lives and works in Brooklyn, New York.
To read more about Cheryl Molnar: click here for past coverage in PLANET.

 
Product Description
These prints are made with fade-resistant, archival inks and are printed on Epson Ultrasmooth Fine Art paper, a 100% cotton rag, acid- and chlorine-free, ph-neutral art paper. This particular paper stock is designed for professional artworks, featuring natural whites, no optical brightening agents, true archival quality, and a weight of 255 gsm.
Original Artwork
Oil stained paper on wood panel, 20" x 30"
2010
$2,000
For serious inquiries, please email earthby (at) planet-mag.com


Limited Edition of 100
11 x 14 inches at $300

For international orders, please email earthby (at) planet-mag.com