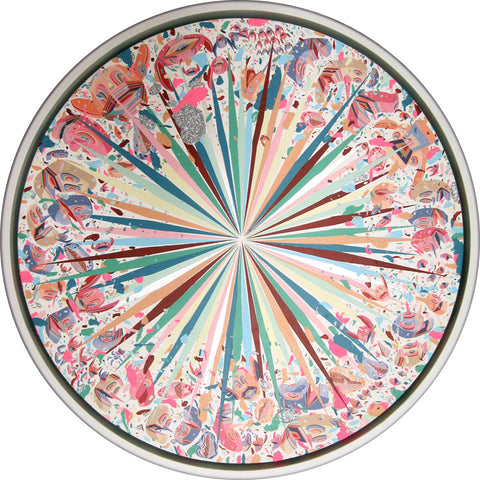 Click to Enlarge

Kelsey Brookes is an artist of contrasts. His well-documented background in microbiology, surf culture and folk art combine in explosive prisms of raucous color, bold imagery and timeless motifs. Raw and un-tethered, his vibrant, mixed-media assemblages reveal a free-flowing aesthetic that's altogether energetic, sexual and humorous. Each work is a microcosm of life itself, where smiley-faced characters and wild animals cavort with abstract forms and splices of color to form something infinitely complex and visually joyful. Brookes' quick ascent to artistic success in both the United States and the UK has led to a variety of fine art and commercial platforms, increasing the demand and value of his work. Kelsey Brookes is represented by Quint Gallery in La Jolla, CA; New Image Art in Los Angeles; and Lazarides Gallery in London. His work has appeared in countless group shows, art fairs, and magazines such as GQ, Modern Painters, Juxtapoz, Beautiful Decay and Dazed and Confused. Brookes is a featured artist in the RVCA Artist Network Program. He lives in San Diego, California.
To read more about Kelsey Brooks: click here to see an interview on Sezio and here to see an article at Dazed Digital.

 
Product Description
These prints are made with fade-resistant, archival inks and are printed on Epson Ultrasmooth Fine Art paper, a 100% cotton rag, acid- and chlorine-free, ph-neutral art paper. This particular paper stock is designed for professional artworks, featuring natural whites, no optical brightening agents, true archival quality, and a weight of 255 gsm.
Original Artwork
Mixed media on board, 15.25" in diameter
2010
$2,000
For serious inquiries, please email earthby (at) planet-mag.com


Limited Edition of 100
20 x 20 inches at $250
For international orders, please email earthby (at) planet-mag.com