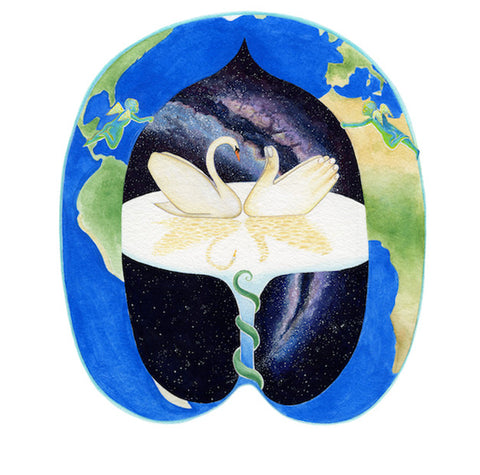 Click to Enlarge

Oliver Halsman Rosenberg is a multi-disciplinary artist, curator, and writer. He has been nomadic since 2008 and in addition to his art, he helps run the Philippe Halsman Archive, NYC. His work has been exhibited in galleries and institutions throughout the United States, Europe, and Asia, and reviewed in The New York Times, and Parkett. He has performed under the name "Crust and Dirt" with Clint Taniguchi, with whom he also established Triple Base alternative art space (SF, CA) in 2003, and with whom he collaborated on one of the early Earth By images in our print magazine in 2004. We've followed his work closely in the years since and we wanted to invite him to create his own Earth By for our ongoing series of fine art prints. In this gouache painting, Oliver expresses the sacred balance of the Earth in the vast cosmos and the peace and grace that exist within the heart of all things. 

Original Artwork
Gouache on paper, 10 x 14 inches
2015
Currently not available.
Limited edition of 22 
14 x 18 inches at $222.00
For international orders, please email earthby (at) planet-mag.com