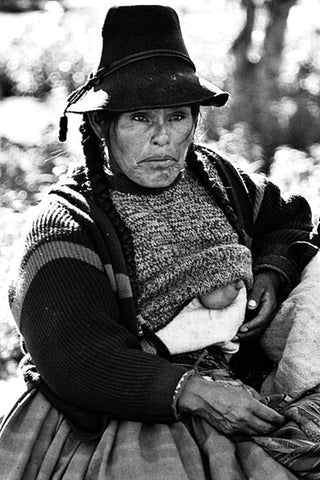 Click to Enlarge

Jase King photographs from his journeys shooting people of the World. He is currently pursuing his 143rd city, making his mark across the globe. He spent the last 4 years capturing life in the Middle East where he lived. Next year will see him relocating to New York, where he plans to publish his coffee table book, sip coffee and have a good laugh.
"This photograph was removed last minute from my Photo Exhibition in Berlin entitled 11 FABLES. I thought Peruvian Dreams needed its own showing. She evokes a sense of mystery and provocation."

Product Description
The work is printed on premium quality paper made of 100% cotton rag (not wood pulp). It is created using a paper making process which has been refined for centuries in Europe. The paper, sourced from the USA, carries UK Fine Art Trade Guild Certification. 
The work is printed with genuine K3 Ultrachrome Inks from Epson The B&W printer contains 6 channels of black ink, varying in densities from 100% to 5%. This offers incredibly smooth tonal transition between highlights and shadows. Completely neutral B&W prints (no colour cast throughout the print) Increased archival qualities - independently tested to last 200 years without fading.

Cusco by Jase King

8.5 X 11 inches
$150.00 (signed print/unframed) 

Edition of 100
18 X 24 inches
$488.00 (signed print/unframed) 


Edition of 10
30 X 44 inches 

$888.00 (signed print/unframed) 


Edition of 10
45 X 65 inches 

$1888.00 (signed print/unframed) 


Edition of 5